Toyota Hilux Vigo Smart Cab For Kenya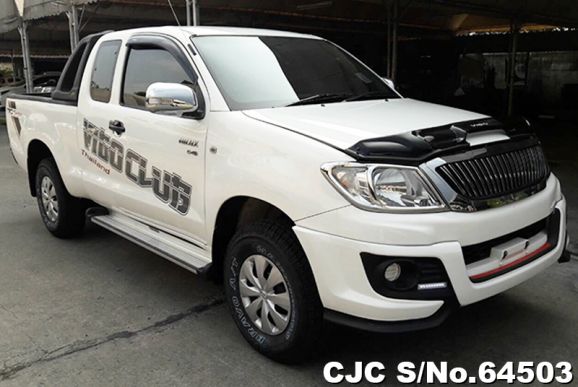 Toyota Hilux Vigo Smart Cabin is the most popular used pickup vehicle for import in Kenya because of the core reason for promoting wildlife adventure tourism in the country. Many young keen enthusiasts always demand Hilux Vigo pickup for fulfilling their quest of the outdoor recreational trip and performing some kind of daring and exciting risky challenging activities. It is now becoming a new prevailing trend in Kenya to keep this luxury stylish Smart Cabin Pickup as a true status symbol of maintaining a lavishing urban class living standard.
It is a 4-Wheel Drive compact pickup truck built for a rough and tough drive for customers. The sleek robust exterior design provides a true sense of reputation and leaves a lasting bold impression on everyone at a first sight. The rugged solid aerodynamic structure exhibits a stunning noticeable display glance to have an instant purchase decision. This trendy smart cabin pickup truck offers an aggressive tone with an actionable move and a perfect choice for adventurous outdoor excursion trip for all younger generation customers with an ultimate stimulating desire to explore new exotic places. It features glittering accessories such as front LED headlights, V-Motion front metallic chromium horizontal bar grille, lower grille, under spoiler front illuminated fog lights, front bumper, alloy wheels, and power side mirror with LED turn signal light. On the rear side, it offers a catchy style appeal for customers added with high mount stop light, vertically fitted LED taillights and rear bumper.
Interior Design Cabin provides a luxurious yet spacious seating comfortable leather seating accommodation for passengers with much ease of legroom and headrest capacity. The front side dashboard cockpit panel gives a fancy look and equipped with all kinds of advanced key features. The rear side opens flat trunk compartment offers a vast cargo space for the bulk amount of loading and easy storage accommodation. The side open doors provide the extreme convenience of entry and exit for passengers with firm handle grip and low floor cabin.
By means of driving performance, it provides easy road handling with right-hand fuel-efficient smart cabin pickup truck and fitted with 2.5 liters of turbocharged diesel and powered by both choices of manual as well as an automatic speed transmission system for a powerful smooth seamless flow of all-terrain drive journey.
Toyota Hilux Vigo Smart Cab is a truly splendid 4×4 off-road premium class luxury pickup truck holds a significant value among customers in Kenya to enjoy wildlife safari tour with all family and friends. It provides sheer driving stability on all kinds of mountainous, sandy, and harsh rigid bumpy road surfaces for customers.