Toyota Hilux Vigo Single Cabin Pickup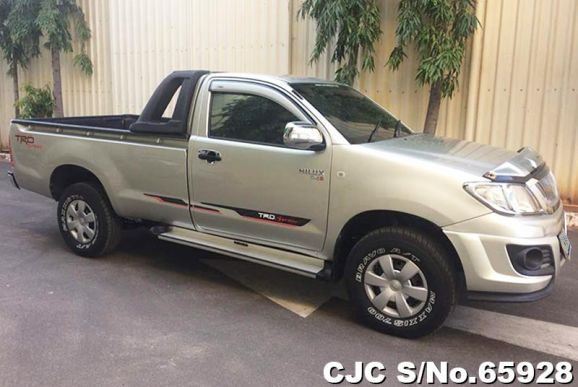 Toyota Hilux Vigo Single Cabin is a 2-door right-hand sturdy pickup truck ideal for its rugged dynamic appeal among customers in Kenya. It offers a true sense of urban class luxury and sheer aggressive reputation with a flare of wildlife safari adventure journey in Kenya. This trendy and sporty 4×4 pickup is ideal for young age customers to enjoy exciting and challenging off-road all-terrain actionable driving journey activities.
Exterior Design offers a sleek and stylish robust aerodynamic structure comprising of larger front LED headlights, front black horizontal bar emblem grille, lower grille, front bumper, indicator lights, power side mirror, and alloy wheels. On the rear side, it also provides a nice attractive display look combined with LED taillights and lockable tailgate with optional choices of rear step bumper.
Interior Side Cabin features a well-decorated and carpeted spacious yet comfortable leather seating accommodation for 2-3 passengers. The seating offers much ease of legroom and headrest capacity, as well as front side dashboard cockpit panel, adds a fancy appeal for passengers which is equipped with added features such as air-conditioning, power steering, power windows, anti-lock braking system, central locking, and dual airbags. Moreover, the rear side opens flat cargo compartment offers a vast extensive storage and loading with powerful towing capacity.
By means of driving performance, it offers a smooth and steady flow of drive on all kinds of harsh on-road and off-road surfaces. It is also fitted with 2.7 liters of gasoline and 2.5 liters of diesel engine powered by the manual speed transmission system. The special price packages are offered as J-Package and G-Package.
Toyota Hilux Vigo Single Cabin is an all-time favorite pickup among all ages of customers in Kenya and has provided a modern fashionable trend of a lavishing style living standard for all Kenyans to show a remarkable impression on others.